Although we were a little down on the number of activities registered this year we didn't lack quality!
Here are just a few examples of what our Champions got up to around the country, and you'll find more on our Facebook page.
The National Dignity Council would again like to thank all those Champions who have been involved and don't forget our Chair's Challenge to push the numbers ever nearer the 100,000 mark.
Bristol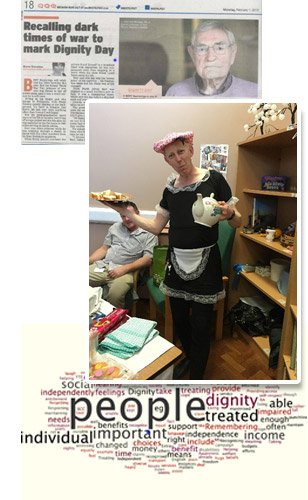 Bristol City Council ran a week long campaign starting on Dignity Action Day. It involved internal and external communications activity to promote the 10 Dignity Dos and encourage staff and citizens to sign up to be a Dignity Champion.
Internally there were a range of all-staff messages which challenged employees to think about what enabling dignity for an older, disabled or vulnerable citizen means for their area of work. The core message, 'dignity applies to all services and situations'. This included an invitation from the disabled employees group to write what dignity means on a whiteboard. The Assistant Mayor wrote to all councillors inviting them to sign up to be dignity champions. The communications team also worked closely with social work champions and commissioners who work with external care providers.
Kind regards, Lorna Crouch
Catterick Garrison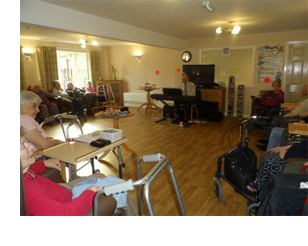 At Rosedale Care Home and Lodge here at Catterick Garrison residents and staff celebrated Dignity Day on the 1st February 2016 by holding a very sedate High Tea while consulting with all about their definition of what dignity is.
While sipping tea from vintage china Mr Roger Hemingway played his keyboard while singing wonderfully memorable songs from the early 20th century. We coincided the day with the opening of our beautifully refurbished Tea Rooms and all staff, residents and visitors agreed that the event was a great success.
Julie Dempsey, Activities Coordinator
Dulwich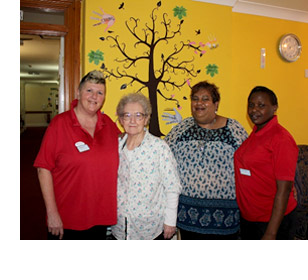 Residents at Dulwich Care Centre had the chance to talk about what dignity means to them at a special event organised by staff. Care service users are treated as individuals and are given choice, control and a sense of purpose in their daily lives.
The Care Centre's event was organised by Activities Coordinator Shelley Lutchman and included Dignity Champion, Maggie Haughey, pictured alongside resident Helen. Shelley said: "During the morning residents had the chance to discuss their feelings and ideas on what dignity means to them. They included issues around self-esteem, privacy, good manners, treating others with respect and about having empathy with others."
Erika Slavik, Acting Centre Director
Healthwatch Redbridge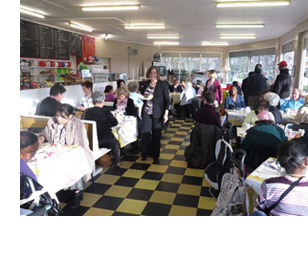 A cream tea was the order of the day as people from around the borough joined Healthwatch Redbridge to celebrate Dignity Action Day 2016 on Monday 1 February.
Over 60 people including residents and staff from care homes, staff from community health and social services and people from the deaf community, came together at the Valentines Café in Valentines Park to talk about and celebrate Dignity Action Day. A vintage theme was created for the 'Digni-Tea' party by decorating the café with bunting and table coverings. Music from the 1920's-1940's was also played.
Cathy Turland, Healthwatch Redbridge Chief Executive Officer said: "Our goal this year has been to raise awareness of the importance of dignity and respect for all people using health and social care services. These events, although light-hearted, reflect the value we as an organisation place in getting people to talk about dignity and respect."
East Thames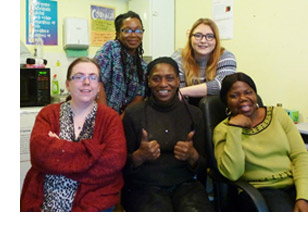 At housing association East Thames, January has been their Dignity Awareness Month: an opportunity to promote the importance of upholding the dignity of supported living residents. It runs up to the national Dignity Action Day on 1 February which aims to inspire health and social care staff, service users and local people to place dignity at the heart of care services and in their communities.
Charlie Culshaw, director of care and support services, said: "By taking part in Dignity Awareness Day and holding our own Dignity Awareness Month we have been able to promote our commitment to dignity in care. Through initiatives like our Dignity Charter and Dignity Champions, we ensure that this commitment is upheld at all times and embedded in East Thames' culture."
Kempsey, Worcester
The Lawns Nursing Home in Kempsey, Worcester held a Dignity Tea. Our Residents chose their favourite cakes, gave us the recipes and Anita our chef cooked them on Monday, We invited families and friends, and our staff also held several events throughout February including a Birthday party for our 101 year old resident, Dignity awareness training for all of our staff, and we have taken photographs of our Dignity Champions and put them on the wall. We have asked residents, families, and friends as well as staff what dignity means to them and made a poster of the results.
At the lawns we have made a dignity promise, which residents and staff have produced between them.
Dee Davies, The Lawns Nursing Home
Rochdale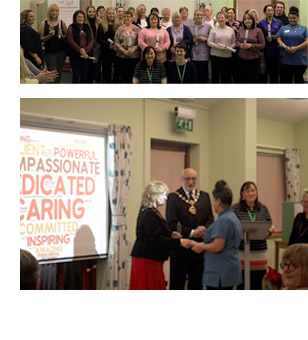 Springhill Hospice, Age UK Rochdale, Rochdale Borough Council and Heywood Middleton and Rochdale CCG hosted a Dignity Champions Celebration Event on Friday 5th February 2016 to celebrate the success of developing a Palliative Care Education Passport. The week was chosen to coincide with Dignity Action Day and it has also inspired others to join the training programme.
The Passport has been offered free of charge for local care/nursing home staff - within the passport dignity and compassion is a core part and runs throughout the training, we also ask all attendees to sign up to the dignity champions, and several of the homes held events in recognition of Dignity Action Day.
Jane Ashworth, Education Lead & Specialist Palliative Care Nurse
Abingdon, Oxfordshire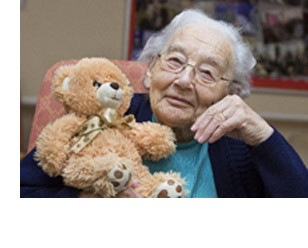 Residents at a care home in Abingdon were entertained with live music as they celebrated Dignity Action Day with staff. Flautist Lorraine Chapman took centre stage at the Old Station House, run by the Orders of St John Care Trust.
Activities coordinator Jess Denton said: "All the residents enjoyed the music. There was also a raffle and residents including Tony Coates and Les Townsend took part. We try to do something different every year for Dignity Action Day."
Holbeach
Artist Eric Austin was special guest at Patchett Lodge care home in Holbeach last week for Dignity Action Day. Eric, from Whaplode St Catherine, gave help and advice to residents as they made their own art exhibition, and they also enjoyed entertainment from Billy Martin.
Walthamstow
Dignity Action Day was marked with a public meeting on what can be done to improve care for older people.
Waltham Forest Pensioners' Convention hosted the meeting on February 1 at St Gabriel's Church, in Havant Road, Walthamstow. Speeches were heard from Walthamstow's Labour MP Stella Creasy, Waltham Forest council's director of adult social care Jana Burton and Mayor of Waltham Forest councillor Saima Mahmud.
Stallingborough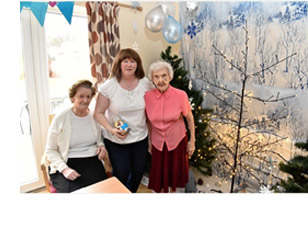 A stunning winter wonderland - complete with polar bears, penguins and plenty of snow - was the highlight at a local nursing home. The colourful transformation at Stallingborough Lodge was all the idea and work of care assistant Elizabeth Waumsley as part of a special day. The home, in Station Road, Stallingborough, was one of many across the country taking part in national Dignity Action Day activities at the weekend.
Ms Waumsley is the home's dignity champion and, to mark the day, decorated one of the rooms with Winter Wonderland features, including three Christmas trees, an ornamental tree, snow globes, snow flakes and pictures of polar bears and penguins.
Cardiff Care Home Celebrates Dignity in Style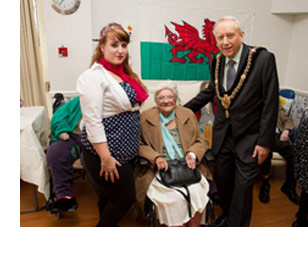 Everyone attending the event at Brightside Manor were encouraged to dress in the styles from the 40's to 60's. The celebrations took place in the main lounge of the home which was brightly decorated with Welsh & British flags, bunting, and brightly coloured table cloths. Residents were encouraged to dance and sing to music of 40s, 50s and 60s.
The Rt. Hon the Lord Mayor of Cardiff accompanied by the Lady Mayoress dignified the event with their presence. During their visit they were introduced to staff, residents, and those attending the event.
From Nava Navaratnarajah
Lindridge Carehome
As part of our Dignity Day we asked all our residents what they thought of when we asked them what dignity was they responded with words such as
Courtesy
Valuing
Acceptance
Trust
Sharing
Variety
Communication
Self esteem
Listen to me
Privacy
We took these words and put them on the wall for inspiration for your day
We asked the staff to "Put their Hearts into it and give us as a thought " and we are collating the suggestions so we can use their ideas to help promote Dignity in our home , one of the suggestions was to Grant a residents wish and on the Dignity day we granted two wishes one for a bowl of jellied eels and a pint of Guinness and the other for a for a tub of Ben and Gerry's ice cream , the rest we have decided to endeavour to grant on the residents birthday's .
Tracey Fox-Stillwell, The Sussex Partnership
Red Homes Community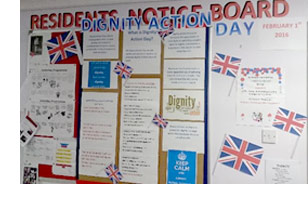 Red Rose hosted a Mad Hatter Digni-Tea Party in each of its communities from 31 January till 1 February. So the hats were out!
Red Roofs held art classes for residents and relatives to create decorations for the dignity tree. As well as pamper sessions, bingo, and a fish and chip lunch and of course let's not forget the sherry party!
Residents of Red Firs were involved in an afternoon of reminiscence with a confectionary theme and residents and their relatives expressed what they thought dignity meant to them. These were written on a leaf and placed on our dignity tree.
Our thanks to Sam Cobb.