Dignity in Care Matters Conference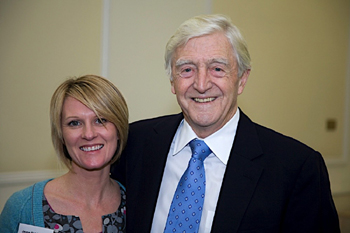 On 25 November, 2008, 200 Dignity Champions from across the nation joined together to attend the National Dignity Champions' Conference, "Dignity in Care Matters", held in London.
The aims of the conference were to:
• Ensure there is clarity about what dignity means in practice for all delegates
• To share positive practice and learn from each other
• To improve outcomes for citizens e.g. by sharing information, providing assessment tools and learning materials for delegates
• To promote a wider understanding of humanity and dignity
The day began with an introduction from the previous Minister of State for Care Services at the Department of Health and Minister for the East Midlands. Since taking on this position he has visited establishments around the UK as part of the National Dignity Tour The Minister talked about reform in the NHS, including treating more people more quickly, to making sure that everyone receives the highest possible quality of care every time, wherever they are in the country, and recognising that people who use care services are individuals with individual needs. He also highlighted the importance of the new NHS constitution, which places privacy, dignity and cleanliness at the heart of care, and includes specific pledges around respect, consent and confidentiality.
The second speaker Jamie Rentoul, Director of Regulation and Strategy at the Care Quality Commission, outlined the role of the new Care Quality Commission in promoting dignity. This includes bringing together and builds on the excellent work of three commissions and ensuring that people who use services, their families and carers will be at the heart of everything the Commission does. Jamie outlined some examples about dignity and respect. His presentation is available below.
Sir Michael Parkinson was the third guest speaker and he conducted a "sofa chat" similar in style to his chat show. Sir Michael interviewed Barbara Pointon, Barbara Dearnley and Amanda Waring to discuss their experiences as carers and in influencing the Dignity Campaign. The video footage will be uploaded to the site shortly.
Throughout the day workshops were run for the delegates on topics ranging from malnutrition in older people, improving the quality of care in care homes, and the core principles of self directed care. Details of all the workshops can be found below.