Dignity in Care & the London Marathon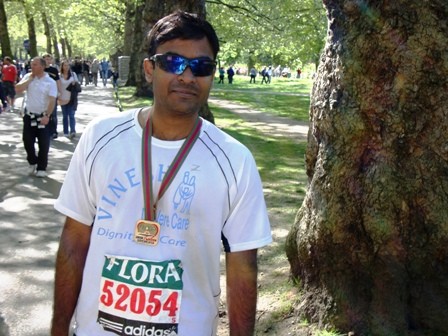 Vinesh Kumar completes the London Marathon promoting Dignity in Care!
Vinesh says.....I have been an active dignity champion for London for couple of years and have promoted Dignity in Care initiative in the London Borough of Redbridge where I live an work as a General Manager for a group comprising of residential homes for the elderly and a domiciliary care organisation called De Vere Care. We started embracing the 10 dignity challenges in our workplace and implemented it successfully in our organisation and then went on to spread the word across to all care providers in the local borough at every available opportunity and personally I have advised the local borough in incorporating Dignity in Care as a core priority in the relevant operational processes of all care provisions provided by the independent and voluntary sector providers in our area.
Dignity in Care, personally, also taught our organisation to learn to respect our staff well so that they can treat our service users with Dignity.
Flora 2009
I was planning to run the Flora London Marathon 2009 and raise money for a charity and during one of my long runs during Feb 09 I thought why don't' I wear a T-shirt with Dignity in Care printed in it and spread the word around while I am running, as people are bound to see the message and a tiny percentage may go back and search for what it means when they get home...
...so I wore the T-Shirt and completed the marathon in around 5 hours. But a good analogy dawned in my mind as I completed the race. Just like anyone reaching old age for the first time without prior experience of it! I ran my maiden marathon and the first few miles were fantastic and I was ecstatic... around 16 miles I wished I had not participated but with the crowd support I eventually completed the full 26.2 miles. So coming back to Dignity in Care, it is with the support of professionals that elderly people can successfully lead a safe, independent and empowered life. The pain I endured during the run is nothing compared to the silent elderly population who have lost their voice and do not complain for fear of retribution. It is our duty as professionals, to raise the profile of Dignity in Care in whatever platform possible and whenever possible...