Dignity Champion of the month for March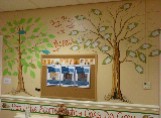 Congratulations to Rose Wheeler from Firs Nursing home, Ashmere, Derbyshire, who has been named Dignity Champion of the Month. Rose was nominated by her colleague Rebecca Jones.
Rebecca credits Rose for single handedly raising the awareness of the importance of Dignity in Care to staff in the home and to the residents' families.
She was also responsible for organising a brilliant afternoon for residents and their families for the Dignity Action day. With the help of an artist, she arranged to have two Dignity Trees painted on to one of the care home walls. Residents can talk to their families and write on a leaf about the choices and priorities they expect at the end of their life. Rose is currently finishing putting evidence together to receive the Bronze Standard for the Dignity and Respect Challange.