Davlyn House Dignity Action Day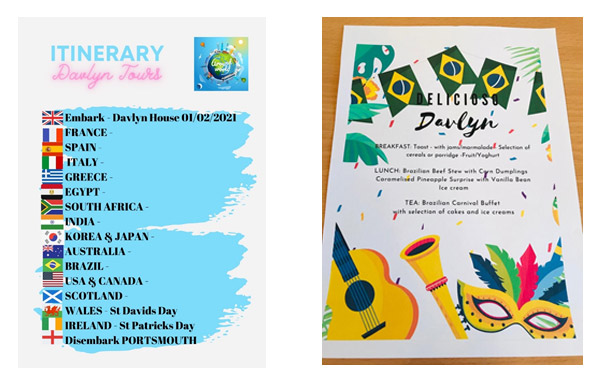 Dignity in Action Day celebrated in February is always one of the highlights of the Davlyn House Calendar, we normally open our doors to relatives, friends, family and local homes and have a wonderful celebration. February this year was hugely different, we wanted to lift mood and give everyone something to look forward to and share with our residents' families and friends.
Holidays seemed to be a distant glimpse somewhere on a faraway horizon, so we decided to have a Remote Dignity Cruise in which we wanted to celebrate the many cultures and people from around the world. This idea was received with great enthusiasm by all.
So, our plan began, we have visited two different countries every week for the last 8 weeks, going all around the world, we researched countries, learnt simple words, enjoyed the singing and dancing and of course tried many different foods. We shared all our activities with friends and families on our Facebook page.
Each country and its people were embraced by residents and staff, long forgotten memories were invoked and discussed, each day was themed around the country, quizzes, art, crafts, documentaries and musicals. Of course, each country had its own incredibly special music and dance which we sang and danced to.
Our Dignity in Action Cruise has now come to an end our final destinations, were Scotland, Wales, Ireland and finally our grand finale ended in England, where we celebrated with Fish, Chips and Peas and a wonderful High Tea, of buffet food and delicious cakes.
The food had a starring role and menus each day were awaited with anticipation, everyone tried foods that we had never even heard of before and loved them, they are being incorporated into our menus so we can carry on enjoying these many different tastes.
We are producing a book of menus, recipes and memories from our adventures, all proceeds will go to the National Dignity Council, Dignity Campaign.
Lesley Flatley Manager at Davlyn House