Quality Matters Commitment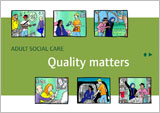 I was really pleased to represent the NDC on Wednesday at the launch of the Quality Matters Commitment - this work has brought many key stakeholders together, including the NDC, to produce a very worthwhile product.
It was coordinated by Andrea Sutcliffe Chief Inspector Social Care for CQC, and her team and has been endorsed by the Department of Health. I encourage everyone to peruse the document, think about how you can get involved. It is essential that like dignity quality is at the heart of all we do.
Jan
Links: