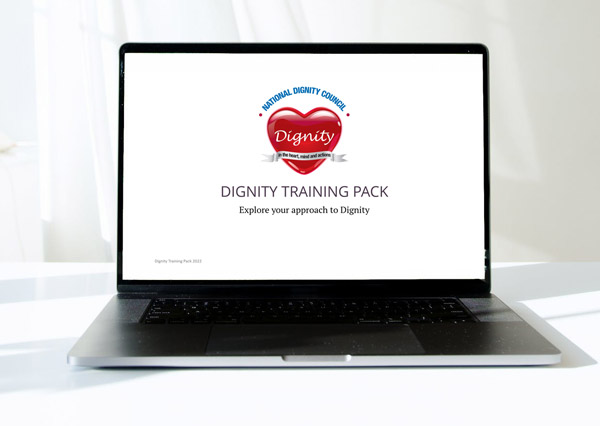 Over the years the council has received many requests for dignity training. Whilst we do not have the resources to deliver such training on a regular basis, we do believe that we can provide guidance and support to others in delivering such training.
The pack we have developed is intended to operate on two levels.
To provide organisations and individuals with
A method of exploring their own approach to dignity and

Ensuring that the training they deliver meets some key objectives
Contents include a PowerPoint Presentation & Workbook
The PowerPoint presentation provides the basis of the knowledge delivery and the workbook provides the opportunity for participants to record their knowledge base and attitudes and develop the commitment to delivering services with dignity, respect and compassion. It is intended that the two be used together and that they provide a structured approach to this learning.
We are also conscious that many organisations will have their own scenarios that they regularly use in training or are based are issues live to the particular setting. These can be substituted for the examples given in the pack
Validation
The council is happy to validate training delivered using a sampling method of workbooks and in house observation reports.
We are conscious that many organisations have developed their own packs over the years and we would hope that this pack will provide a benchmark against which to ensure that there are consistent messages around Dignity, Compassion and Respect.
Trials of the pack have shown that it can be delivered in about four hours, although this will vary according to how much discussion is enabled and the number of examples that are used to explore the concepts of dignity in all its guises.
Cost
The cost of the training pack is only £25.
Information and purchasing
If you would like more information or wish to purchase the training pack please email info@dignityincare.org.uk (opens new window).