A Better Service
We have divided the 'A better Service' section of the Dignity Map into 3 categories to help you break down the task of providing Dignified care. We hope that by looking at them this way it will evoke more ideas of opportunities for improvement.
"Consistently looking for ways in which care can be improved with a workforce that is engaged in this by a leadership that drives the improvement and cares about the outcomes."
There is an easy to read version of the 'A better service' section of the Dignity Map at the bottom of the screen detailing indicators & evidence that may help you achive these aspects of dignified care.
A skilled Workforce
Delivering Dignified care relies on the right workforce.
Qualified and experienced: Because nothing less is really acceptable.
Broadly skilled: Who knows what challenges tomorrow will bring. Indeed do they meet the challenges of today?
A motivated, helpful and approachable workforce: Services are as good as their staff, more than any other factor the experience of people will be affected by how they are treated.
Valuing Diversity:A workforce that respects each other & understands we live in a diverse society & that everyone deserves the right to be treated with respect & dignity
Proactive & Innovative: A workforce that passionate about improving services.
An improving Service
Because we can always be better and if we can, we should.
Holistic Service:It is great to have great planning for an area. It is greater to plan effectively for them all.
Regular monitoring: Services should regularly monitor a users health & comfort
Personalised Service: Everyone is different, By tailoring an individuals care you can reflect that
Services that reflect a users need: The person in care is the person who really knows what care they need. How can we plan care without knowing this?
Continuing Care: Care does not stop at the door.It should continue after discharge and into the home. Peoples home is not a foreign environment the standard of their care should not diminish with distance
Inspiring Leaders:
Organisations reflect their leaders. Inspiring leadership is often the difference between a service that delivers and one that fails.
Leaders with vision: Vision is a source of power and leaders should consider how they develop, share & sustain it. Leaders with vision can see there is always room for imrovement.
Leaders who care: Leaders should care about the people in thier care and thier staff
Leaders with integrity: A leader with power must have integrity. Leaders must earn our trust & behave ethically.
Leaders who inspire: Leaders should foster a positive & productive approach
Leaders who deliver: Leaders must deliver on commitments, they must deliver for their teams & for the people they care for. They must turn thier willingness into reality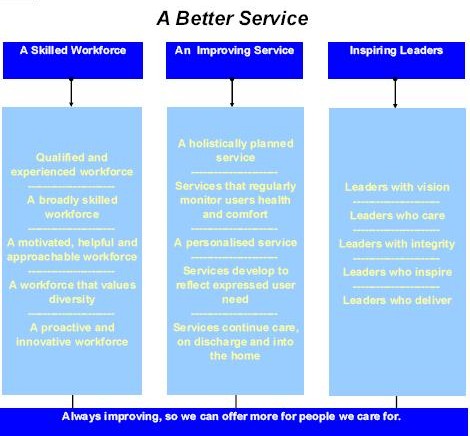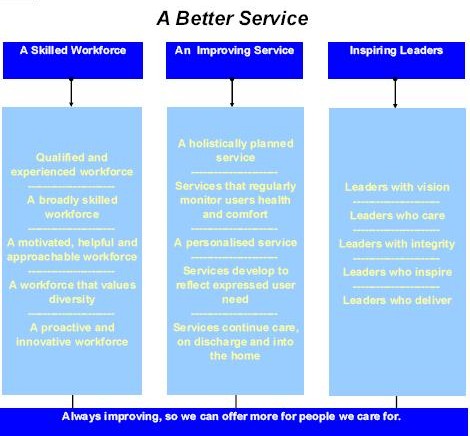 NHS Institute and Dignity
The NHS Institute for Innovation and Improvement supports the NHS in transforming healthcare for patients and the public by rapidly developing and spreading new ways of working, new technology and world-class...
A4 a better service
A Better Service From the dignity map in an A4 easy to read format