Local Dignity Events in the North East Region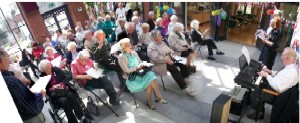 See the most recent events at the bottom of this page
National Dignity Tour visits the North East Dignity Exchange
A Dignity Exchange was held on Monday 13th October to showcase work being undertaken in the North East to promote dignity in care. Around 30 Dignity Champions attended and shared their good practice together through posters and presentations.
The previous Minister for Care Services came to the North East to this event as part of a six month dignity tour. The purpose of the visit was to raise the profile of the Dignity in Care Campaign and for the Minister to see examples of good practice. Further detaisl of the event will be posted shortly.
Julie Cowen, Lead Services Manager for CIC at Charlotte Grange, in Hartlepool was one of those attending. She is part of a network of care home managers who have undertaken projects such as dignity in end of life care. Charlotte Grange also runs a dignity award for its staff - nominated each month by residents and families. Jason Corrigan, part of the Anchor Trust's National dementia team also attended. The seven-strong national team provides training, support and advice for staff, families, friends and relatives. The team awards its own Dignity Champion accreditation to attendees of their five day advanced dementia course who can show that they are applying the dignity principles.
The event took place in the Bradbury Centre in Brunswick Village, Newcastle upon Tyne. The centre was a very appropriate venue for the exchange event; it has been custom built for people with dementia and older people with mental health problems and their carers. The Dementia Care Partnership, a social enterprise pathfinder agency, owns and runs the new centre. It focuses on social, leisure and learning opportunities to promote independence and well-being for its clients. Facilities include a café, space and equipment for leisure activities such as music and dance, health and fitness areas and beauty therapy, conference facilities and a piazza. In keeping with the holistic approach, many facilities are open to the local community.